By Paula Spencer Scott | January 27, 2021 | Health
"You don't look like you have Alzheimer's," people tell Terry Montgomery. "Well, that's like saying, 'You don't look like an alcoholic,'" she says. "I'm just not as cognitively sharp as I used to be." Montgomery, 63, was diagnosed with young-onset (also called early-onset) Alzheimer's five years ago.
"I don't look any different or talk different. I'm not deaf, so you don't have to shout. I understand English," adds the retired businesswoman of Duluth, Ga., who's now on the advisory board of Dementia Action Alliance. "I hate the stigma placed on us because people don't know any better. Once I met others like me, it took away my fear and phobia."
People diagnosed with Alzheimer's or other forms of dementia often hear outdated or simply wrong beliefs about their conditions, says Mayo Clinic behavioral neurologist Dr. Jonathan Graff-Radford. He tackles such myths and more in the new "Mayo Clinic on Alzheimer's Disease and Other Dementias" (written with Angela Lunde), a complete revision of a 2013 guide by Dr. Ronald C. Petersen. The update adds personal stories from people with dementia and their care partners as well new sections on brain health and living well with cognitive disorders. Among the misconceptions it's time to toss:
Dementia is a problem for the old
Not exclusively, as Montgomery, who got diagnosed at 58, knows. Almost a quarter-million Americans are living with young-onset Alzheimer's (developing symptoms before 65), which is why the Mayo book now includes a section on it. Another type, frontotemporal dementia, typically strikes between 40 and 65."A lot of information focuses on those in their 70s. But people in their forties, fifties, and sixties may still work or have dependents living in the house, with different concerns," Graff-Radford says.
If you have memory loss, you probably have dementia
It's more apt to say, if you have memory loss, you're human. Everybody forgets things; young adults blame sleep or stress and move on. Older adults are more apt to make the leap right to disease."As folks age, it's natural to have forgetful moments — losing your keys, trouble connecting a name with a face, coming up with a word on the spot," Graff-Radford says. "There's a cognitive spectrum, a wide continuous range with many shifting levels between just 'normal' or 'abnormal.'""Dementia teaches you to enjoy life."
About 10% to 15% of cases of mild cognitive impairment (changes in thinking and memory beyond what would be expected by aging alone) transition to dementia every year. Dementia is daily memory loss that impacts the ability to function independently, like cook or balance the checkbook. Even this kind of memory loss can have reversible causes, including medications and sleep apnea."You don't go right from memory trouble to dementia," Graff-Radford says.
Alzheimer's and dementia are the same thing
"If I tell someone, 'You have dementia,' they say, 'But not Alzheimer's, right?'" Graff-Radford says. "Or if I say, 'You have dementia due to Alzheimer's disease,' people look confused and ask, 'What's the difference?'"
Dementia, he explains, is the umbrella term for a syndrome of memory loss and other cognitive changes that interfere with everyday life. Alzheimer's is the most common type of dementia. Other types of dementia include frontotemporal degeneration, Lewy body dementia, and vascular cognitive impairment.People with dementia can't learn new things
Actually, people living with dementia can continue to learn new routines, skills, and habits, Graff-Radford says, thanks to procedural memory, a type of long-term automatic memory that tends to be preserved well into the course of the disease. Motor memory, a.k.a. "muscle memory," can preserve ingrained abilities (ride a bike, tie a shoe) and through repetition, aid the ability to pick up new ones (painting, dancing, trying new exercises). Dementia doesn't shut down every thinking skill involved in learning.
People with dementia lose the ability to enjoy themselves
"Nothing could be farther from the truth," Graff-Radford says. Very few patients are diagnosed so late that there isn't plenty of their same pre-diagnosis life ahead. "We always ask patients, 'What are the things that bring you joy?' It's critical to try to enjoy usual activities, realizing you may need to make modifications," says Graff-Radford. A gardener may need to use photos to help remember plantings or a bridge player could have someone else keep score while finding the same pleasure in the activity. " I'd say dementia teaches you to enjoy life," adds Montgomery. "All the filters, the things I was afraid of, are removed when you focus on the present moment.".
To diagnose Alzheimer's, get 'the Alzheimer's test'
There's no single diagnostic test for Alzheimer's — not yet. (No, those brief cognitive screens that ask you to draw a clock can't tell you if you have dementia.)
At Mayo, as elsewhere, doctors evaluate possible dementia by considering symptoms, medical history and relatives' perceptions. Mayo staffers also perform several kinds of neurological tests to check cognitive functions and typically use blood tests and brain imaging to rule out other causes.
"There have been a lot of breakthroughs recently in terms of tests to measure the toxic proteins that build up in the brain through PET scans and spinal fluid, or now plasma as well," Graff-Radford says. Given that Alzheimer's starts in the brain 15 or more years before symptoms appear, these biomarker tests may one day identify the disease much earlier.
Dementia makes people more violent
Aggression is far from universal. "Everyone's journey is very different, with symptoms that depend on them as individuals, on the setting they're in, and on the anatomy of the disease," Graff-Radford says.
As "Mike," a 52-year-old Mayo patient quoted in the book, says, "Please remember that dementia is a disease, not a personality trait."
Nothing can be done about it — so why find out?
The sooner a diagnosis is made, the more opportunity for treatment, Graff-Radford says.
Current therapies, including medications, can't reverse symptoms but may slow progression. Coexisting conditions that may make dementia worse, from vitamin deficiencies to sleep apnea, can be treated.
While cognitive changes are still mild, a person can also plan for how and where they'd like to live as symptoms progress. Many of Graff-Radford's patients choose to emphasize relationships and cultivating a sense of life purpose, he adds.
Far from being an exercise in futility, finding out the cause for concerning symptoms is "empowering," Graff-Radford says. "Having dementia is just one part of who I am. It does not define me," says "Dale," another Mayo patient. "I can enjoy today and what I have now."
Paula Spencer Scott is the author of more than a dozen books, including Surviving Alzheimer's: Practical Tips and Soul-Saving Wisdom for Caregivers, a series of interactive journals and health/family guides with doctors at Harvard, UCLA and Duke. Her latest is When Your Aging Parent Needs Help with Dr. Leslie Kernisan. A longtime journalist and former Woman's Day columnist, she's also an Alzheimer's, caregiving, and brain-health educator.
Originally appeared on nextavenue.org
Drink Up! Dehydration in Seniors
With the summer sun and warm weather upon us, more and more of us tend to head outside for outdoor fun and activities. But, before you enjoy your fun in the sun, it's important to make sure that you stay hydrated. Dehydration is extremely common, but seniors are at increased risk. In fact, chronic dehydration is involved in a number of illnesses that older adults face, such as hypertension, heart disease, and even joint pain and arthritis. In this post, we'll explore more about dehydration, including the warning signs and tips for preventing this common condition.
Signs and Symptoms of Dehydration
Did you know the human body is made of about 60% water? Water is essential for your survival, and the body needs water to regulate your temperature, remove waste and toxins, and deliver nutrients to your cells. When you don't drink enough water, you can experience a variety of health issues. Some of the long-term effects of dehydration include headaches, memory troubles, kidney stones, and blood clots. That's why it's crucial that you know the following signs of dehydration:
Dry mouth and skin
Muscle cramps
Decreased urination and constipation
Dizziness
Fatigue
Confusion
Rapid heart rate
Low blood pressure
Hydration Tips for Seniors
Fortunately, mild dehydration has an easy fix, and overall is an easily preventable condition. Here are some tips to stay hydrated:
Drink more fluids, especially water. Some doctors suggest 40 ounces of water daily for seniors. Try aiming for five eight-ounce glasses of water each day as a health goal.
Avoid or limit caffeine and alcohol whenever possible. Both alcohol and caffeine can lead to dehydration because they cause you to lose more fluid than you take in.
Eat foods that contain water, especially fruits and vegetables. Jello, soup and yogurt are also hydrating foods.
Are your medications making you thirsty? Some medications have frequent urination and dry mouth as side effects. Speak with your physician if you suspect this may be true for you.
Drink beverages that you enjoy. While water is the best source for replenishing your fluids, try tea, fruit juice, milk or sparkling water to quench your thirst.
A Vibrant, Healthy Way of Life at Immanuel Lutheran Communities
At Immanuel Lutheran Communities, we weave senior wellness into daily living. Our chef-prepared dining menu offers nutritious meals to keep you hydrated and nourished throughout the day. We focus on all six dimensions of wellness through a variety of healthy activities for residents. You'll find several fitness classes designed with you in mind to meet your health and fitness goals.
We offer a variety of senior living options as well, from independent living to skilled nursing and memory care, ensuring you'll find a perfect fit here. Contact us today to learn more about our inviting and welcoming community in the Flathead Valley of Montana.
Easy Hikes for Active Seniors in Glacier National Park
Glacier National Park, located in the Rocky Mountains area of Montana, is a popular attraction for sightseers and outdoor enthusiasts. There are over 700 different trails to explore, each with their own unique views of different parts of the area. For the active senior who wishes to get back to nature, and maybe explore a bit of history, Glacier National Park is sure to have a trail to fit your sightseeing needs.
Glacier National Park Trails to Explore
Some Glacier National Park Trails can be traversed by yourself or part of a small group. Other trails are led by experienced guides who will ensure maximum enjoyment and safety during the hike.  The following list has some examples of simple trails the active senior can explore, sorted by difficulty. This is only a small suggested list, as some trails that are manageable for some seniors might be very challenging for others.
This is the shortest trail in the park, extending 0.6 miles on a round trip. A well-maintained path and slight elevation changes means little trouble for the active hiking senior. There are several places near the trail that you can detour to take a look at the mighty falls. Depending on when you visit, you may see anywhere between a 20-foot to 40-foot waterfall.
Going-to-the-Sun Road is the start and end point of this 1.0-mile looping roundtrip hike. This is a popular trail, with many opting to start eastward to witness grand cedars that can grow up to 100 feet. The midpoint of this trail offers a stunning view overlooking Avalanche Gorge. On the western side of the trail is a paved path to navigate back to the starting point.
This 1.1-mile hike will offer plenty of views. You can see where the forest has begun to regrow with new lodgepole pine saplings and young aspens after fires in 1967 and 2001. It's recommended to visit in early summer, as you'll see plenty of wildflowers in bloom and a nice thimbleberry patch at the high point of the trail. A short climb of about 100 feet leads to views of the Flathead River and the mountains near the Continental Divide.
Hiking Tips for Seniors
Many seniors choose walking as their method of exercise and hiking the trails of Glacier National Park is an excellent way to get moving and take in fantastic views of nature. Of course, before embarking on any hiking trip, it is important to be prepared. Here are some helpful tips to consider as you are planning your hike.
No matter where you choose to hike or walk, make sure someone close to you knows where you are or will be going. This is especially true in Glacier National Park, as many trails do not have cell phone service.
Dress appropriately. Make sure your shoes are sturdy enough for active walking. Wear clothes that not only offer protection against the elements but can also be removed in case of an emergency.
Go at your own pace. There is no need to rush through any hike, so take your time and enjoy the sights.
Bring supplies. Some trails are long enough that you'll need to bring plenty of water and energizing snacks. It's also recommended to bring something that can make a sharp loud noise, such as a whistle, in case of emergency.
Consider a hiking pole or walking stick to help with keeping balance along the trails.
Leave no trace. Glacier National Park is home to important historic and scientific artifacts. Do not take anything without permission, as items are usually there for a reason, such as marking paths or keeping stability with the local wildlife.
Active Senior Living in Kalispell, MT
At Immanuel Lutheran Communities, our residents enjoy vibrant senior living options, the opportunity to live life on your own terms. Contact us today to learn more about our thriving retirement community or to schedule your personal tour.e
A common misconception about physical fitness is that it must involve strenuous exercises and long workouts in order to reap the benefits. But the truth is that even low-impact exercises and short stretching sessions can contribute to a healthier lifestyle and improved physical well-being. Some older adults may have flexibility or mobility issues, making some sports and other activities difficult or challenging to perform.
For seniors especially, a major area of concern is the back. As we age, our lower back muscles, including our spinal vertebrae and cartilage, can become strained and overworked, leading to back pain and discomfort. Fortunately, there are some simple, low-impact exercises that seniors can perform that not only will help with improving flexibility and keeping you limber, but also embrace the message of National Physical Fitness month.
The Best Low-Impact Back Exercises for Seniors
1. Walking
The simple act of walking is a great low-impact exercise. It strengthens the muscles responsible for stability when you're up and about. Your feet, ankles, knees, legs and hips all get a good workout during a walk, even for a short amount of time.
The next time you go for a stroll, try walking heel-to-toe to help maintain balance and reduce strain on your lower back. Start with 20 steps like this at a time, and work your way up. This simple exercise also makes your legs stronger, which makes you less likely to fall while walking.
2. Chair Exercises
Try these two exercises that can be done in the comfort of a chair. These are especially helpful if you have issues with back pain, or if you aren't comfortable with standing for a long period of time.
Seated Jumping Jacks are very easy on the joints and staying seated reduces or removes the sudden impact of landing, which can aggravate your spine and lower back muscles and spines. Sit toward the front of your chair with your knees bent and arms resting at your sides. Extend your legs to the sides, straight and wide, with heels on the floor; at the same time, raise your arms into a V above your head. Bring arms and legs back to the center. Repeat for at least 10 minutes to get a full aerobic benefit.
The Spine Stretcher is good for those who sit all day, or just need a good stretching of the spine. Stretching also relieves tension in the back, which supports a large portion of your body. Sit straight up in your chair with both feet flat on the floor. Raise both hands straight up and parallel above your head. Reach as high as you can so you can feel the stretch in your spine. Alternate hands, reaching up one at a time like you're climbing a rope (you should feel it in your rib cage and spine). Repeat 10-20 times on each side.
3. Yoga
Practicing yoga is a great lower back exercise for seniors for several reasons. Yoga helps improve bone density, relieves tension in the body (making it great for your mental health as well), and can also reduce your risk of injury from falling or tripping by strengthening your core muscles.
Here are a few examples of yoga poses that can help with your back:
Child's Pose: Start on the hands and knees and sit hips back towards the heels. Bring the big toes together and keep the knees together to create support to round the back over the legs and get into the thoracic spine stretch. This pose lengthens and stretches the spine while relieving tension in the neck and shoulders. You can also try using a block under the forehead for more relief.
Knees to Chest: Lie down on your back and hug knees up into chest. This has the same effects as child's pose without impact on the knees. It rounds and releases. You can gently rock right to left for a gentle massage on the spine.
Before starting any physical program, be sure to consult with your healthcare provider to determine which exercises work best for you.
Senior Wellness at Immanuel Lutheran Communities
At Immanuel Lutheran Communities, we focus on all six dimensions of wellness through a variety of healthy activities for residents. You'll find several fitness classes designed with you in mind. Try a strength, balance and fitness class or improve your flexibility in a yoga class. Contact us to learn more about the living options offered at our Kalispell retirement community located in the beautiful Flathead Valley.
Looking for things to do in Kalispell, Montana? Wineries are a great springtime and warm weather activity for seniors to enjoy. Many locations offer walking tours of their facilities, which means that not only do you get some exercise, but you also get to learn more about the wine industry and how your favorite spirits are produced.
If you enjoy a glass of vino from time to time, add visiting a Kalispell winery to your agenda this spring. Especially here in Montana, wineries tend to have their own unique flare, offering delicious selections, fun wine tastings and live entertainment. Keep reading to discover three local wineries near Kalispell for you to explore!
Glacier Sun Winery
Glacier Sun Winery is a popular destination in Kalispell. Founded in 2011, Glacier Sun Winery is becoming well-known for its flavored ciders and wine choices – their Huckleberry Peach wine is a popular selection. This award-winning winery uses Montana-grown fruits to create their rotating selection of fruit wines.
In addition to wine, you can also purchase fresh fruits and vegetables at Glacier Sun Winery because it's part of the Apple Barrel Country Market, where you can find fresh produce from across the country. Their tasting room is open Wednesday – Saturday year-round, and you can enjoy live music and entertainment on the weekends. During the summer, you can sit on their pleasant patio, taking in the gorgeous views as you sip from your glass.
Tailing Loop Winery
Located just two miles east of downtown Kalispell in the former Glacier Art Gallery, Tailing Loop Winery offers wines produced from reputable and well-established family vineyards located in the Pacific Northwest, including critically-acclaimed vineyards and cellars in the states of Washington & Oregon.
Live musical performances are a staple at Tailing Loop Winery every Friday and Saturday night. Their tasting room is open Wednesday – Sunday. When the weather is warm, additional concerts are held on their patio, or in their event center. Their wine menu features a variety of red and whites from all branches of the wine spectrum for your enjoyment.
Mission Mountain Winery
Did you know that Mission Mountain Winery is the oldest winery in the state of Montana?  Located on the West Shore of Flathead Lake, Mission Mountain Winery offers exquisite, internationally award-winning wines and produces approximately 6,500 cases of wine each year. They grow pinot noir and pinot gris grapes along the shores of the lake, as well as small amounts of Riesling, Chardonnay and Gewurztraminer grapes.
The tasting room at Mission Mountain Winery is open from May 1 – October 31 each year, seven days a week. Although reservations are not required, they are available.
Vibrant Senior Living in Kalispell, MT
At Immanuel Lutheran Communities, our residents enjoy a variety of senior living options, the right level of care, and the lifestyle they crave. From walking tours in the Flathead Valley to activities for the entire family to enjoy, there's always things to do in Kalispell, Montana! Contact us today to learn more about our active senior living community, or to schedule your personal tour.
The days of bicycling being just an activity for children are long gone! Cycling for seniors is great exercise, and more and more older adults are putting pedal to the pavement and going for a ride. In fact, cycling among those 60 years and better is growing the fastest of all age groups, according to the US Department of Transportation.
"A bicycle is no longer a kid's toy. It's enjoyed by adults, and it's great," said Benjamin Breyer, an associate professor of urology at University of California, San Francisco, and an author of a study about bike injury trends. "It's such a fantastic sport. It's great exercise, it's low-impact, and it's been shown to have all these cardiovascular benefits and to improve your own general well-being," he said.
But before you hit the nearest trail or bike path, let's explore three quick cycling tips to make sure you're good to go.
1. Wear Your Bike Safety Equipment
You may come from a time where it was unheard of to wear helmets, kneepads and elbow pads while biking. However, nowadays, those are essential to stay safe. Unfortunately, along with the increase in bike ridership among older adults comes an increase in accidents and injuries. Seniors can sometimes be more vulnerable to injury while cycling due to the natural effects of aging like decreased agility, vision changes and lowered stamina.
So, make sure your helmet fits well and is secure. Replace it immediately if you notice any cracks or worn out straps. In addition to knee and elbow pads, wear proper footwear that completely covers your toes and feet. Don't forget brightly colored reflective clothing so drivers and other cyclists can see you on the road.
2. Choose the Best Bike for Seniors
The best bikes for older adults are all about comfort. Choosing a bike that is right for you will have a big impact on how much you enjoy your rides. There are various types of bikes available for your choosing. You may want to visit a bike shop and have a professional help you select the best one for your needs.
Here are a few Bicycle Options to Consider:
Road bikes are good for riding on the pavement. They typically have lighter handlebars and thinner tires than other bikes.
Mountain bikes are made for a harsher riding surface like rough terrain. They are heavier than road bikes and have shock absorbing features.
Hybrid bikes are a combination of the road and mountain bike. They are versatile and designed to keep the rider upright.
Recumbent bikes are growing in popularity with older adults. Most recumbents have three wheels and are very supportive of your lower body.
Adult tricycles are also popular with seniors and those with limitations or balance issues. They provide stability while riding and there are a variety of styles to choose from.
Obey the Rules of the Road
In several states, bicycles are considered "vehicles" and must abide by the same traffic laws as cars. Although laws can vary depending on your location, here are some general guidelines to follow:
Ride in the same direction as traffic, never against it.
Use proper hand signals to indicate which direction you intend to go.
Obey all traffic lights and signals to avoid accidents.
Stay on the right if your speed is slower than the flow of traffic.
Use headlights and taillights during both day and night and especially when visibility is diminished.
Active Senior Living in Kalispell, MT
Nestled in the mountains and valleys of northwest Montana, Kalispell is home to numerous picturesque bike trails and paths. You can enjoy the scenic bike routes as a member of our vibrant senior living community here at Immanuel Lutheran Communities, where we offer a variety of services and amenities to make sure you thrive and enjoy your carefree retirement years. Contact us today to schedule a tour of our senior living community.
Do you know what's in your food and where it comes from? The residents at Immanuel Lutheran Communities do – because the dining team not only feeds them, but educates them on what they're eating.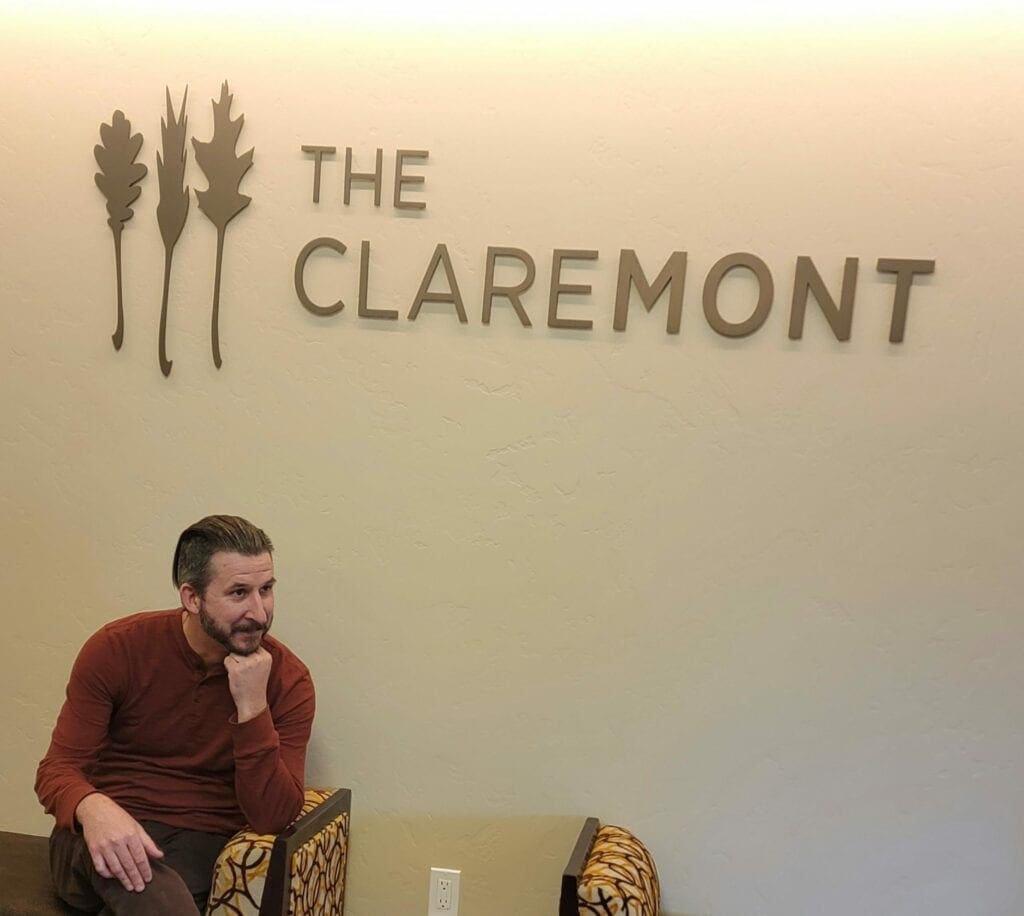 That's one of the passions that came through when we spoke with Food and Beverage Director and Executive Chef, Andrew Nelson. He's not only passionate about cooking, but teaching longtime residents of Montana about locally-grown ingredients and the importance of farm-to-table.
"[It's] not only important to the dining experience, it's important to the community, and the earth," said Nelson. "We're proud as a dining team to procure local ingredients and use them in a creative light."
For example, many Montana residents are unaware that foods like peaches and watermelon – which most assume don't grow in Montana – are actually grown locally. Other examples include resident favorites – Dixon melons and Honey Crisp apples.
Secrets Behind Delicious Kalispell Foods
What makes the meals served by Nelson and his dining team so extraordinary? The skill of the cooks behind them is one factor that can't be denied.
"We have over 100 years combined culinary experience in our kitchen," said Nelson. "With three graduates from the FVCC culinary arts program, and one graduate from San Francisco, in my opinion these are some of the best chefs in the valley. They love to let their personality shine through their food and on the plates."
Residents feel confident knowing their food comes from local growers and is served fresh every day. Immanuel Lutheran Communities' dining staff uses the Western Montana Growers COOP – based out of Missoula – for most local ingredients.
"To be considered "local" it has to be grown within a 500 mile radius," Nelson explained. "The COOP works directly with the farmers to stock their warehouse and make weekly deliveries to Kalispell and surrounding areas."
One of the features that sets the food apart is the "fine dining" option at BHT called Savory. This popular menu changes bi-weekly and features items like lobster fettuccine, Korean short ribs, and halibut with forbidden rice.
Nelson shared another example of popular menu items that form a full-course meal.
Appetizer: Cornmeal-dusted calamari with sweet Thai chili sauce.
Soup: Maple-roasted parsnip and celeriac, garlic croutons, chive oil salad, heirloom tomato, Prosciutto di Pharma, Dixon melon, and goat cheese.
Entrée: New Zealand rack of lamb, pine nuts, smoked turnip puree, raspberry mint spiral potatoes.
Dessert: Blackberry and cocoa sorbet with a Matcha cookie.
Is your mouth watering, yet?
Nelson and his team understand that every resident is different and requires a variety of food options to choose from. With approximately 150 residents on campus, it's difficult to please everyone all the time. But the dining staff does their best to accommodate all palates and diet restrictions.
"While we don't offer specific diets, we do have choices that will accommodate all dietary needs," said Nelson. "If a resident has a specific request, someone from the dining team will meet with them personally to go over any needs or wants."
Most residents rave about the fabulous menu options from Nelson and his staff. And special events are the perfect time for residents to bring in family and friends to get a taste of the delectable food.
Food, after all, is highly social. That's why there's plenty of unique spaces throughout the community to encourage conversation and fun while enjoying the food.
"We offer snacks, fresh fruit, juice, hot cocoa, and coffee in all of our spaces," said Nelson. "In our dining rooms, you are free to sit where you like, whether that be with an old friend or someone new."
Are you ready to try the popular food from Executive Chef Andrew Nelson and his staff? Discover senior living dining at Immanuel Lutheran Communities. You won't be disappointed.
Discover Life at Immanuel Lutheran Communities
At Immanuel Lutheran Communities, we always give our honest best to seniors in the Flathead Valley. This is our home, and this is our mission: to enrich lives by providing Christian communities of support and loving care. Learn more about the senior living lifestyle at Immanuel Lutheran Communities today.
It's winter and your options for activities are limited. But that doesn't mean you should stay inside watching TV until birds start chirping again. There's plenty of indoor activities for seniors in Kalispell.
You may have tried one of these activities years ago, or maybe there's something on this list you've never done before. Either way, why not give it a shot? Snag a significant other or friend to join you, and choose a day over the next few weeks to get out of the house. You'll be glad you did.
What to Do Indoors in Kalispell
Here are some of our residents' favorite indoor activities in Kalispell:
Hockaday Museum of Art
Art lovers, where are you? This one is perfect for you. If you've never been, you're missing out! It's home to numerous works of art by Montana artists, both current and historic. Plus, it's housed in a stately Carnegie Library building, which is sure to impress.
Conrad Mansion Museum
We've recommended Conrad Mansion before, and for good reason. This home is one of the staples of Kalispell and is central to our town's history. After all, Kalispell's founder lived here. You can get a tour of the home or visit the museum to see real relics from the 18-1900s displayed much as they were in that time period.
For example, you can see up close and in-person real attire worn as early as the 1890s, and learn about the different uses for such clothing or history buffs, it's truly fascinating.
Magic Diamond Casino or Windiggers Casino
Play some slot machines or blackjack while having a drink at this hometown casino. It's a good way to get out of the house, take your mind off things, and kick back with a group of friends. Plus, you'll be toasty and warm indoors no matter what the winter weather is doing outside.
Kalispell Main Street Historic District
You've probably been here before, but it's so lovely, why not go again? You'll have to walk outside to get to the quaint, unique shops and cafes, but it's worth it. Did you know our historic district was listed on the National Register of Historic Places in 1994? We're proud of our downtown.
Montana Brew Bus
If you love brews, spirits, and food, this activity in Kalispell is perfect for you. This bus will take you and a group of people on a fun tour of area breweries. Your stops may vary depending on the season's route, but common stops include Sunrift Brewing Company, Brass Tap, and Whitefish Handcrafted Spirits, among others. You'll love visiting multiple local breweries and distilleries without having to worry about driving yourself.
It's easy to get cooped up and bored during the wintertime. Let's cure that with an adventure to somewhere indoors in Kalispell. You'll see there are plenty of fun memories left to be made for seniors, like yourself, right in your hometown.
Our residents mean the most to us. At Immanuel Lutheran Communities, we always give our honest best to seniors in the Flathead Valley. This is our home, and this is our mission: to enrich lives by providing Christian communities of support and loving care. Learn more about the senior living lifestyle at Immanuel Lutheran Communities today.
The Many Types of Housing Options for Seniors Today
Individuals choose to move into senior living communities for a variety of reasons. Some move to be around other people their age. Some don't want to be burdened with the upkeep of a home. Others need help performing everyday tasks. And still others need a safer environment or more medical care than their family can provide. As you begin researching senior housing options near you, this guide will explore options addressing each of these concerns and more.
ACTIVE OLDER ADULT HOUSING OPTIONS
Studies show that individuals who are active and engaged in life are happier and healthier than their non-active counterparts. Many older adults become more active and engaged after moving into a community of their peers for various reasons:
It's easier to make friends within a community of similarly-aged people
Organized activities and clubs make participation easy
Greater access to sports and fitness programs geared to their age group
Activities and programs are age-appropriate
As you examine housing options for seniors near you, you may want to also consider:
Are the services and facilities you want nearby, such as shopping malls, public libraries, health centers and museums?
Does the housing option you're considering accommodate alternative mobilities? If you need handicapped bathroom facilities or parking, or ramps and elevators, are these available?
If you have a health condition that could require immediate medical attention, is a hospital or medical care facility nearby?
As Americans live longer, healthier lives, the number of active older adults searching for senior housing options offering an energetic lifestyle has increased. Fortunately, several types are available:
Independent Living is a senior living option for active older adults with minimal need for assistance for daily tasks.
55+ Communities attract seniors in early retirement looking to downsize.
Continuing Care Retirement Communities, or CCRCsare senior living communities for those who prefer a continuum of care in one location at a predictable rate.
COMPARING INDEPENDENT LIVING COMMUNITIES, 55+ RETIREMENT COMMUNITIES AND CONTINUING CARE RETIREMENT COMMUNITIES (CCRCS)
As you consider senior housing options during retirement, all three help residents pursue an active lifestyle. They all offer activities that interest a wide variety of people and provide an environment in which to do these activities surrounded by people who are similarly-aged; although an independent living community and a CCRC offer more scheduled activities each day, most on-site. They all offer a wide range of amenities and services, but they will vary from location to location; so, it's best to determine what amenities and services are important to you and then choose a community that provides them.
A 55+ retirement community is more likely to have single-family homes, although independent living and CCRCs may also provide this option but on a much smaller scale. Single-family homes offer spaces to cultivate your own flowers and vegetables or a garage to work on your car, if that is your hobby, making them an obvious choice for many.
The biggest difference in these housing options for older adults is that a CCRC is more future-focused, providing a continuum of care beyond independent living all within the confines of a single support living environment. Once established in a CCRC, things will be familiar to you for the rest of your life … no more needing to acclimate to new surroundings, schedules and people, despite any changes in your level of care. Although the cost of a CCRC is substantially higher, 77% of family members of residents in CCRCs would be likely or very likely to consider a CCRC lifestyle for themselves in the future.
To learn more about Kalispell's premier senior housing option, please contact us today.